Announcing TechMentor Sponsorship, vBrisket Prime Cuts Podcast and Exclusive Raffle!
vBrisket is proud to announce that we are a proud Premier Media Sponsor of the upcoming TechMentor event in Las Vegas! The event is March 7th – 11th and will be held at Bally's!

As a Premier Media sponsor vBrisket has the chance to send one lucky winner to this awesome IT Pro Training event. If you're not familiar with what TechMentor is then allow me to fill you in! TechMentor provides IT Pros the chance to get "pitch-free" technical training across many different areas including
PowerShell, DevOps, Security, Hyper-V, Windows Server, Nano Server and The Real Cloud. It's co-chaired by Don Jones and Greg Shields – the guys from Pluralsight Technical Training – so you know the content is rock star quality.
Our contest to win the FREE PASS – Tweet out to #vBrisket your favorite pictures of BBQ and Technology – We'll pick from the best on Wednesday, February 10th. Serious entry's only and we'll require a few guest blogs and an appearance on the vBrisket Prime Cuts Podcast!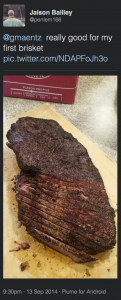 Prime Cuts Podcast is the virtual, on-air rendition of the vBrisket Community Events that have come to be very well known with in the Greater Pittsburgh IT area! So stay tuned closely as we'll be launching our very first episode in the next few days right here on vBrisket.com!!
Friendly Public Disclaimer: vBrisket, LLC and /or TechMentor is not providing travel or meal accommodations other than what is provided with the show pass. The winner is responsible for providing their own transportation, hotel and meal accommodations.