vSphere 6 Problems Continue, it's DejaVu!
For those folks that have upgraded their environments to the latest release of vSphere ESXi (Version 6.0) critical issues are becoming to become quite the norm. For years VMware was known for their solid QC processes and their releasing of Production ready hypervisor releases…UNTIL vSphere 6.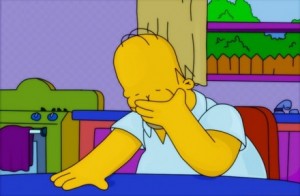 The latest issue was announced this past week and is contained within vSphere 6.0 Update 1a. VMware details the issue via KB2136854. However, this particular problem is huge for those customers that utilize image based, VADP backups as now their Change Block Tracking (CBT) that's typically used for incremental backups is completely untrustable. Unfortunately at this point there are no workarounds, hot fixes or patches either.
Fortunately for those users that run Veeam Availability Suite, there is a workaround! Simply disable CBT within your Veeam jobs by editing the Job, Click Storage, Click Advanced, Click vSphere and uncheck the box 🙂
Now, Veeam will still perform incremental backups since the entire set of disks must be read to determine what's changed – your jobs will continue to run as normal, they'll just take longer. If you're a Veeam customer I highly recommend following the official thread on the Veeam Forums.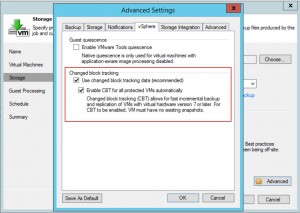 Yet another critical problem for vSphere 6 and more egg on the face of VMware is highly concerning especially given the competitive nature and increasing popularity of Windows Server Hyper-V.